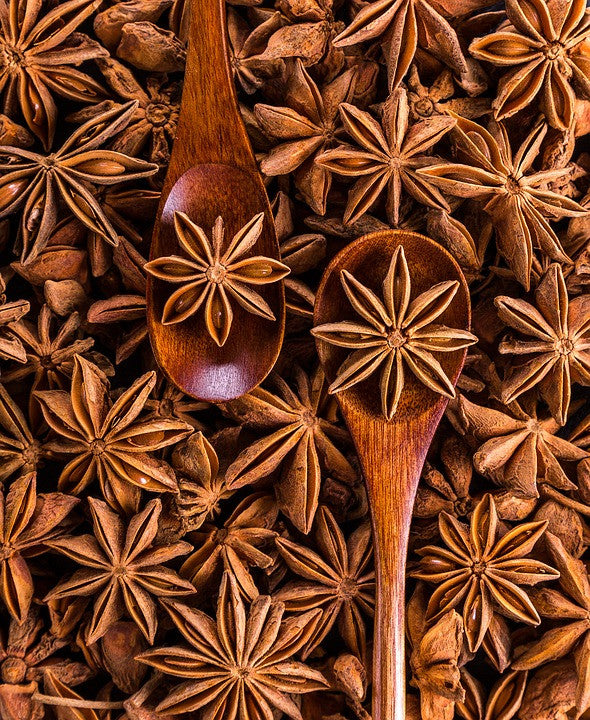 Star Anise Organic Essential Oil
Regular price $14.95 Sale
Botanical Name: Illicium verum
Botanical Family: Illiciaceae
Main Constituents:
Anethole: 89.25%
Estragole: 4.02%
Plant Part: Seeds
Origin: China
Cultivation Method: USDA Certified Organic
Processing Method: Steam Distilled
Approximate Shelf Life: 3 - 4 years
Aromatic Scent: A strong top note.  Cool, Exotic, Herbaceous, Powerful, Sensual, Spicy, Sweet, and Warm.  Much like licorice.
Blends Well With: Cedarwood, Cinnamon, Clove, Dill Weed, Fennel Sweet, Lavender, Lemon, Mandarin, Orange, Peppermint, Petitgrain, Pine, and Rosewood.
Analgesic, Anti-anxiety, Anti-spasmodic, Antiseptic, Calming, Carminative, Digestive tonic, Diuretic, Emmenagogic, Estrogenic, Expectorant, Galactagogue, Insecticide, Laxative, Parasiticide, Sedative, Stimulant, Stomachic
See our General Safety Guidelines for recommended usage.
This oil is not safe for children (under 5 years).
Add a maximum of 3 drops (0.15 mL) to 10 mL of carrier oil (or 1.75%) for topical applications.
Can be used topically to:
Ease muscle and joint pain
Reduce muscle spasms
Aid against rheumatism
Fight viruses
Fight parasites
Fight infection
Ease bloating and gas
Aid digestion
Reduce symptoms of PMS
Increase fertility
Detoxify
Decongest
Reduce fluid retention
Ease respiratory ailments
Ease hangover
Aid against insomnia
Fight fatigue
Deodorize
Stimulate immune system
Can be diffused or inhaled to:
Fight infection
Decongest
Ease respiratory ailments
Stimulate immune system
Fight fatigue
Deodorize
Purify the air
Can be used around the house to:
Disinfect surfaces/filters – try adding drops or spray to furnace/air/vacuum filters! *avoid open flame
Freshen Laundry
Star Anise supports the 2nd, 3rd, and 7th chakras.
Tisserand & Young have shown that Star Anise is potentially carcinogenic, estrogenic, and may interact with some medications.  Star Anise may inhibit blood clotting.  This oil has a low risk of irritation and a low risk of sensitization. [1]
Avoid old or oxidized Star Anise oil.  Store in refrigerator to extend shelf life.
Avoid Star Anise oil for 2 weeks before major surgery.  Contraindicated by all routes with Pregnancy, breastfeeding, endometriosis, estrogen-dependent cancers, and children under 5 years of age.  Contraindicated orally with diabetes medication, anticoagulant drugs, major surgery, peptic ulcers, hemophilia, and other bleeding disorders.
Below are some of the known drug interactions for Star Anise.  Check with your healthcare provider before using Star Anise essential oil if you are currently taking prescription medication.
Moderate interaction:
Diabetes medication
Medications that slow blood clotting (Anticoagulant/Antiplatelet drugs) such as aspirin, clopidogrel (Plavix), diclofenac (Voltaren, Cataflam, others), ibuprofen (Advil, Motrin, others), naproxen (Anaprox, Naprosyn, others), dalteparin (Fragmin), enoxaparin (Lovenox), heparin, warfarin (Coumadin), and others.
Estrogens such as conjugated equine estrogens (Premarin), ethinyl estradiol, estradiol, and others.
Star Anise is potentially estrogenic.
Avoid Star Anise for 2 weeks before undergoing anesthesia or surgery.
We do not recommend topical use in concentrations above 1.75%
This oil is not safe for children (under 5 years).
References
Tisserand & Young Essential Oil Safety, 2ndEdition Churchill Livingstone Elsevier. Edinburg 2014 
Extreme overuse of essential oils can be very dangerous, and even fatal in rare cases(ingestion by children).  Always follow our General Safety Guidelines and dilute your oils.  Some people may have adverse or allergic reactions.  Do not ingest essential oil.  Avoid contact with eyes and sensitive areas.  Keep out of reach of children.  

All of our oils are of USDA certified organic origin, 100% natural, non-GMO, and Cruelty-Free, unless otherwise stated.  Any inquiries can be sent to mountainwellnessproducts@gmail.ca