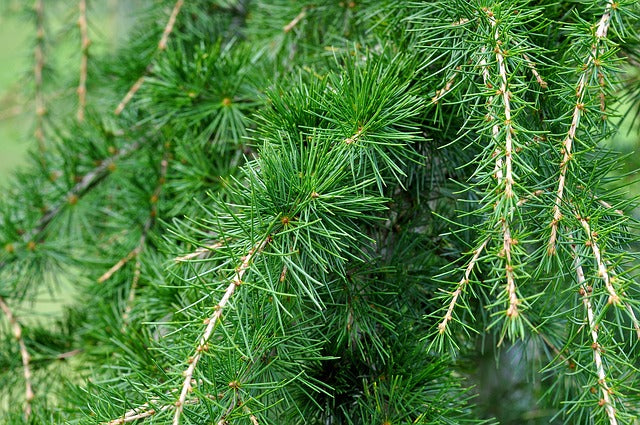 Cedarwood Atlas Organic Essential Oil
Regular price $13.95 Sale
Botanical Name: Cedrus atlantica
Botanical Family: Pinaceae
Main Constituents:
g-Himachalene: 7.2%
b-Himachalene: 29.6%
Plant Part: Wood
Origin: Morocco
Cultivation Method: USDA Certified Organic
Processing Method: Steam Distilled
Approximate Shelf Life: 4 - 5 Years
Aromatic Scent: A strong middle-base note.  Balsamic, Citrus, Woody, and Sweet.
Blends Well With: Bergamot, Cassia, Cinnamon Bark, Clary Sage, Cypress, Jasmine, Juniper, Neroli, Labdanum, Frankincense, Vetiver, Rosemary, and Ylang-ylang.
Anti-bacterial, Anti-fungal, Anti-psoric, Anti-seborrheic, Anti-septic, Anti-spasmodic, Anti-viral, Tonic, Astringent, Carminative, Cicatrisant, Diuretic, Emmenagogue, Expectorant, Fungicide, Insecticide
See our General Safety Guidelines for recommended usage.
Add a maximum of 8 drops (0.4 mL) to 5 mL of carrier oil (or 8%) for topical applications.
This oil is safe for children.
Can be used topically to:
Calm and soothe the nervous system
Ease conditions of the respiratory system
Ease rheumatoid and arthritic pain
Help prevent infection of wounds
Aid against restless leg syndrome
Aid recovery from urinary tract infection
Tighten skin tissues
Relieve itchy irritations
Reduce dandruff
Decrease cellulite
Reduce fluid retention
Provide adrenal support during menopause
Treat seborrhea
Nourish skin
Repel insects
Can be diffused or inhaled to:
Calm and soothe the nerves
Ease conditions of the respiratory system
Repel insects
Purify the air
Cedarwood Atlas supports the 1st and 4th chakras.
Tisserand & Young have shown that Cedarwood Atlas essential oil has no known contraindications, is non-irritating and non-sensitizing. [1]
We do not recommend topical use in concentrations above 8%.
This oil should not be taken in oral doses.
This oil is safe for children.
References
Tisserand & Young Essential Oil Safety, 2ndEdition Churchill Livingstone Elsevier. Edinburg 2014 
Extreme overuse of essential oils can be very dangerous, and even fatal in rare cases(ingestion by children).  Always follow our General Safety Guidelines and dilute your oils.  Some people may have adverse or allergic reactions.  Do not ingest essential oil.  Avoid contact with eyes and sensitive areas.  Keep out of reach of children.  

All of our oils are of USDA certified organic origin, 100% natural, non-GMO, and Cruelty-Free, unless otherwise stated.  Any inquiries can be sent to mountainwellnessproducts@gmail.ca