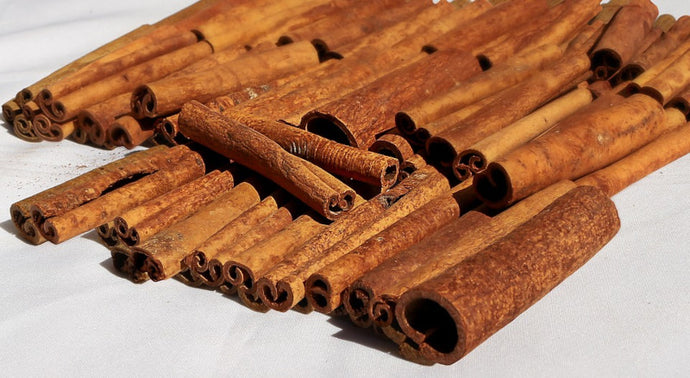 Cinnamon Bark Organic Essential Oil
Regular price $25.95 Sale
Botanical Name: Cinnamomum zeylanicum
Botanical Family: Lauraceae
Main Constituents:
Cinnamaldehyde: 65.60%
Plant Part: Bark
Origin: Sri Lanka
Cultivation Method: USDA Certified Organic
Processing Method: Steam Distilled
Approximate Shelf Life: 3 - 4 Years
Aromatic Scent: A strong middle note.  Earthy, Warm, Woody, Spicy, and Sweet
Blends Well With: Frankincense, Lavender, Cedarwood, Clove Bud, Cypress, Orange Sweet, Palmarosa, Patchouli, Lemon, Rosemary, Neroli, Vanilla, and Ylang-ylang
Anti-bacterial, Anti-fungal, Anti-inflammatory, Anti-parasitic, Anti-platelet, Anti-septic, Anti-spasmodic, Anti-viral, Aphrodisiac, Carminative, Disinfectant, Emmenagogic, Insecticidal, Nervine, Rubefacient, Stimulant, Stomachic, Vermifuge, Warming
Cinnamon Bark essential oil can be hazardous, dilution levels found in our General Safety Guidelines do not apply.  Please follow the recommendations here and in the "Safety and Warnings" section below.
This oil is not safe for children.
Add a maximum of 3 drops (0.15 mL) to 200 mL of carrier oil (or 0.075%) for topical applications.
Can be used topically to:
Reduce inflammation
Increase circulation
Fight viruses
Fight free radicals
Relieve symptoms of depression
Stimulate immune system
Stimulate libido
Fight parasites
Control or lower blood sugar
Help with weight loss
Aid digestion
Fight fatigue
Strengthen body's natural artery clearing process by assisting the production of nitric oxide inside arteries.
Can be diffused or inhaled to:
Fight viruses
Relieve symptoms of depression
Stimulate immune system
Stimulate libido
Fight fatigue
Purify the air
Cinnamon Bark supports the 1st chakra.
Tisserand & Young have shown that Cinnamon Bark essential oil is contraindicated orally with medications treating diabetes, anticoagulant medication, major surgery, peptic ulcer, hemophilia, and other bleeding disorders.  Cinnamon Bark may lower blood sugar, inhibits blood clotting and is embryotoxic.  This oil has a low risk of mucous membrane irritation and a high risk of sensitization.  Contraindicated through all routes when pregnant or breast feeding.[1]  
Below are some of the known drug interactions for Cinnamon Bark.  Check with your healthcare provider before using Cinnamon Bark essential oil if you are currently taking prescription medication.
Moderate interaction:
Diabetes medications (Antidiabetic drugs) such as Amaryl, glyburide (DiaBeta, Glynase PresTab, Micronase), insulin, Actos, Avandia, Diabinese, Glucotrol, Orinase and others.
Medications that slow blood clotting (Anticoagulant/Antiplatelet drugs) such as aspirin, clopidogrel (Plavix), diclofenac (Voltaren, Cataflam, others), ibuprofen (Advil, Motrin, others), naproxen (Anaprox, Naprosyn, others), dalteparin (Fragmin), enoxaparin (Lovenox), heparin, warfarin (Coumadin), and others.
This oil has GRAS status. (Generally regarded as safe)
We do not recommend topical use in concentrations above 0.075%
This oil is not safe for children.
Avoid when pregnant or breastfeeding.
References
Tisserand & Young Essential Oil Safety, 2ndEdition Churchill Livingstone Elsevier. Edinburg 2014 
Extreme overuse of essential oils can be very dangerous, and even fatal in rare cases(ingestion by children).  Always follow our General Safety Guidelines and dilute your oils.  Some people may have adverse or allergic reactions.  Do not ingest essential oil.  Avoid contact with eyes and sensitive areas.  Keep out of reach of children.  

All of our oils are of USDA certified organic origin, 100% natural, non-GMO, and Cruelty-Free, unless otherwise stated.  Any inquiries can be sent to mountainwellnessproducts@gmail.ca